International Relations Major
What to Do With Your Degree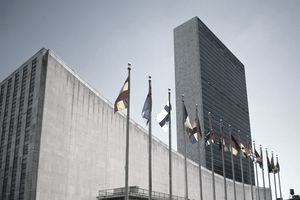 The international relations major involves the study of the global community. This area of study looks at world societies and the interactions between them. Many colleges and universities offer students an interdisciplinary approach which includes studying history, politics, economics, world languages, and geography. You can earn bachelor's, master's, or doctorate (Ph.D.) degrees in international relations.
Master's and Ph.D. programs are usually more specialized than bachelor's degree ones.
Like other , a degree in this discipline will not give you entry into a particular occupation. It will, instead, provide you with a broad knowledge base that you can use to excel in a variety of career fields.
Sample of Courses in Bachelor's, Master's and Doctoral Programs
The interdisciplinary approach many colleges and universities favor means the curriculum for international relations majors features a diversity of courses. Here are some of the classes you can expect to take at the three different degree levels:
Bachelor's-Level Coursework
Politics in the United States
International Economics
International Politics: Methods of Analysis
Politics of Third World Nations
Global Security
Culture in the Age of Globalization
Social Entrepreneurship and Economic Development
World Geography
Comparative Politics
International Law
The Politics and Psychology of Persuasion and Prejudice
National Security Controversies
Causes of War
Money and Power in the International Political Economy
Global Justice
Sacred Objects: Religion, Violence, and History
Sex, Lies, and Capitalism
Diplomacy Lab
Middle Eastern Political Systems
Modern Korean History
History of Germany
Globalization and International Development
Master's Degree Courses
Peacemaking and Negotiation
Human Rights in World Politics
Non-Government Organizations
Managing Non-Profit Organizations
Qualitative Research Methods
Qualitative Data Analysis
International Relations: Theory and Practice
International Finance
American Foreign Policy Since World War II
Evolution of the International Systems
Good Governance
Doctoral Degree Courses
The Politics of Public Policy
Quantitative Analysis
Challenges and Dilemmas in American Foreign Policy
Schools of Thought in International Relations
Seminar in Advanced Research Design
Comparative and Regional Studies
International and Area Studies
Failed States
Electoral Systems
International and Foreign Law Research
Globalization and Health
Where Do International Relations Majors Work?
In addition to in-depth knowledge of world affairs, economics, culture, history, and language, you will develop several valuable  during your studies. They include , , , , and skills. This strong foundation will qualify you to work both in the corporate and non-profit sectors. International relations majors go on to have careers in government, law, politics, business, education, media, and international affairs.
Possible Job Titles
Here are several job titles for which you may qualify after graduation: 
Demographer
Diplomat
Economist
Foreign Affairs Analyst
Foreign Affairs Specialist
Immigration Specialist
Lobbyist
Non-Profit Program Coordinator
Politician
Political Analyst
United Nations Worker
How High School Students Can Prepare for This Major
If you are a high school student who would like to be an international relations major in college, you should make sure to take classes in U.S. history, world history, government and politics, and geography. You should also study at least one world language.
What Else You Need to Know
Other names for this major are international studies and international affairs.
Admission requirements for master's degree programs vary, but candidates are typically required to have earned a bachelor's degree first. Your major isn't important, but you should have completed coursework in economics.
Doctoral programs, which are research-oriented, usually only admit candidates who have already earned a master's degree in international relations.
To become a more marketable job candidate after you graduate, consider studying abroad and becoming fluent in at least one language other than your native one. are also invaluable.
If you want to earn a Ph.D., expect to spend at least five years studying full time in a doctoral program.
Ph.D. candidates must write and defend a dissertation, a technical work that proves a thesis. It could take a few years to complete.
Employment Information
: This site provides resources to help you learn about careers in the Foreign Service.
: Get the facts on becoming a Peace Corps volunteer and apply online.
: Find out about career opportunities with the State Department.
Explore more