What is a Counter Offer Letter?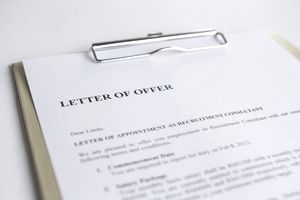 A counter offer letter is a job candidate's written response to a job offer from an employer. A candidate may send a counter offer letter if she does not consider the compensation package acceptable.
In a counter offer letter, the candidate typically expresses interest in the position, but states that she desires a change in the offered compensation package.
When to Counter Offer
You might consider writing a counter offer letter if you are not satisfied with the compensation package.
Perhaps you do not think the salary is high enough, or you think the package lacks critical benefits.
However, not all companies are willing to consider a counter offer. For example, some companies can only offer a particular salary range. Some may revoke an offer if they are offended by or dislike your request. Because employees in all states (except Montana) are "employed at will," employers can legally withdraw a job offer at any time.
If you want to write a counter offer letter but are unsure how the company will react, do some research. Look into the average salary for people in that particular job, both within the company and nationally. Once you have a sense of your worth, you can make a more informed decision about whether to counter offer.
The Benefits of a Letter
There are multiple ways to counter offer. Some people meet with the employer for an in-person negotiation, or speak with the employer over the phone.
Writing a counter offer letter is ideal for someone who is nervous about negotiating in person, or who feels she is a strong and effective writer. Conversing in writing also leaves a useful paper trail: with an exchange of letters or emails, any agreed upon changes are set in writing.
Tips for Writing a Counter Offer Letter
Think about the whole package. When deciding upon a counteroffer, you do not simply need to think of the salary. Consider other non-salary compensation changes that you can ask for, such as relocation costs, insurance, signing bonuses, vacation and sick days, and other benefits. You can also include office-specific benefits, such as your office space, hours, or telecommuting options.
Have clear reasons backed with research. Make sure you do your research before requesting a counter offer. You will be more likely to receive a positive response if you provide clear reasons for why you think you deserve more money or additional benefits. Get a sense of the typical salary and benefits package for the job and the employer, and research the cost of living in the region.
Sell yourself. Emphasize why you are a strong candidate for the position. You want to remind the employer that you are worth a higher salary.
Edit, edit, edit. Be sure to thoroughly edit your letter before sending it. Consider having a friend look at it too.
How to Organize Your Letter
Format: Put your letter in standard business letter format. Include a header with the employer's information and your contact info. Address the letter to the employer.
Introduction: Begin by emphasizing your interest in the company and one or two key reasons why you are an ideal choice for the job. This will remind the employer why you are worth the extra money and/or benefits.
Body of the letter: Include a short paragraph for every part of the compensation package that you want to counter. In each paragraph, clearly state the offer, your counteroffer, and why you believe the counteroffer is appropriate (for example, you can explain that their offer was below the national average for the job).
Conclusion: Emphasize the reasonable nature of your request, and restate how excited you are to work of the company. You might also want to offer to meet the employer in person to discuss further, or simply tell the employer to contact you.
Counter Offer Letter Example
Here's an example of a counter offer letter requesting additional compensation. The writer asks for a meeting to discuss the salary which was offered.
If you send the letter as an email message the Subject Line of your message should include your name and the reason you are writing: Your Name - Job Offer
Dear Mr. Bunuel,
I truly appreciate your offer of the position of Head Chef at your premier restaurant "Chez Bunuel" in Manhattan, New York. The opportunity to work in such an exclusive kitchen with a hand-picked staff is very enticing for any Chef.
Before I make a final decision, I would like the opportunity to meet with you regarding the salary you have offered. A move to New York City would mean a major commitment, and the compensation would need to be mutually appropriate.
My reputation and creativity are well known throughout the industry, and I would truly appreciate your consideration and discussion in this matter.
Respectfully yours,
Luis Plauten
What to Do Next
Be prepared for any response from the employer. He or she may request to meet with you in person to negotiate your compensation.
Decide ahead of time what you will do if the employer simply rejects your proposal, or provides another counteroffer. Decide if there are certain elements of the compensation package you are unwilling to negotiate on.
Be sure to get the new offer in writing, so there is no confusion when you start the job.
Read More: How to Negotiate a Counter Offer | Salary Negotiation | Salary and Compensation Resources