What Does a Boilermaker Do?
Career Information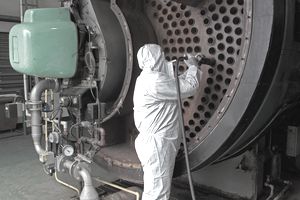 A boilermaker is a who manufactures, installs, and maintains boilers, tanks and vats. Boilers heat the liquid, usually water, that is used to generate electric power or provide heat to buildings, factories or ships. Tanks and vats are storage containers for chemicals, oil and other liquids.
Quick Facts About Boilermakers
Boilermakers earned a  of $60,120 and hourly wages of $28.90 in 2015.
In 2014, over 17,000 people were employed as boilermakers.
Most work for building equipment contractors.
Jobs are typically full-time.
Boilermakers work overtime when there are deadlines to meet, for example when working on a construction project. They face periods of unemployment when their employers are between contracts.
The job outlook for boilermakers is good. The U.S. Bureau of Labor Statistics predicts that employment will grow faster than the average for all occupations through 2024.
Roles and Responsibilities
These are some typical job duties taken from online ads for boilermaker positions found on :
"Read blueprints and specifications to determine the scope of work"
"Identify all tools required for tasks"
"Follow the rules of safe conduct at all times"
"Examine boilers, pressure vessels, tanks, and vats to locate defects such as leaks, weak spots, and defective sections so that they can be repaired"
"Complete work orders and other maintenance documentation"
"Evaluate basic boiler room systems, gather information and help solve problems"
"Repair and make new fabrication heat exchangers of all types and sizes"
Workplace Problems
Boilermakers work in confined spaces.
Frequent outdoor work exposes them to extreme temperatures.
They are highly susceptible to injuries including burns, cuts, muscle strains and broken bones but wear protective clothing and take other precautions to mitigate these risks.
How to Become a Boilermaker
If you want to become a boilermaker, you can apply to a formal  program offered by a union or employer. It is likely to include about four years of paid on-the-job training combined with classroom instruction. You must be at least 18 years old and have a high school diploma or GED to enroll in such a program. Alternatively, you can attend classes at a trade or technical school and combine that with employer-provided training.
What Soft Skills Do You Need?
You will acquire the hard skills that allow you to do your job through your formal training, but boilermakers also need certain , or personal qualities. They are:
Physical Strength and Stamina: You must be able to lift heavy equipment and spend many hours on your feet.
Troubleshooting: The ability to correctly diagnose and then fix problems is essential.
: Boilermakers must weigh various solutions to problems and then predict which one will be most effective.
Reading Comprehension: You must be able to understand written documentation.
What Opportunities Are There to Advance in This Field?
After you become an experienced boilermaker, you may be able to move into a supervisory position. You may eventually become a  who supervisors other construction workers like , , and .
What Will Employers Expect From You?
In addition to skills and experience, what qualities do employers look for when they hire workers? Here are some requirements from actual job announcements found on :
"Must be able to take good and bad criticism"
"Physical Requirements: Climbing, Balancing, Stooping, Kneeling, Crouching, Crawling, Reaching, Standing, Walking, Pushing, Pulling, Lifting, Fingering, Grasping, Feeling, Repetitive Motions"
"Work at heights without fear"
"Must be able to work in team environment"
"Follows policies and procedures; supports organization's goals and values"
Is This Occupation a Good Fit for You?
: RCE (Realistic, Conventional, Enterprising)
: ESTJ, ESTP, (Tieger, Paul D., Barron, Barbara, and Tieger, Kelly. (2014) Do What You Are. NY: Hatchette Book Group.)
Occupations With Related Activities and Tasks
|   | Description | Median Annual Wage (2015) | Minimum Required Education/Training |
| --- | --- | --- | --- |
| | Builds steel frames and assembles cranes and derricks | $50,490 | H.S. or Equivalency Diploma + Apprenticeship |
| | Installs, repairs and maintains elevators and escalators | $80,870 | H.S. or Equivalency Diploma + Apprenticeship |
| | Installs thin sheets of metal to make air conditioning and heating ducts | $45,750 | H.S. or Equivalency Diploma + Apprenticeship |
| | Cuts and installs glass including windows, mirrors and shower doors | $39,440 | H.S. or Equivalency Diploma + Apprenticeship |
Sources:
Bureau of Labor Statistics, U.S. Department of Labor, , 2016-17 (visited December 15, 2016 ).
Employment and Training Administration, U.S. Department of Labor,  (visited December 15, 2016).