The Retail Sales Bible for Stores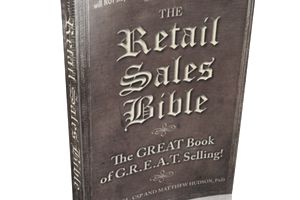 I was teaching a seminar on selling at a retail conference several years ago and in my audience was a retail legend - Rick Segel, author of the After the session, Rick came up to me and said, "that was the best presentation on retail selling I have ever seen. I was going to write a book on selling, but now I want to write it with you." Those were powerful and humbling words.
Fast forward a couple of years and the release of the , one of the best selling retail books of the last five years. The concept of this book is simple - study the best retail salespeople in the country and monitor their sales techniques. Then interview their customers to see why they love them so much. Finally, add in Rick and my combined 50 years of retail selling experience and the Retail Sales Bible was born. 
This book teaches a unified sales process for your retail store. Studies show great benefits with a unified process. But more important than unification, the customer experience is at the forefront of the ideas and techniques in this book. Too many sales books are complicated treating sales like a science instead of the art form it truly is. There are just 5 phases in the GREAT Selling system (the acronym used in the book.) 
Greeting, Researching, Experimenting, Add-ons and Tethering
In the Greeting, you learn that there are actually four sales you make with every customer. 
The Researching phase will teach the power of great questioning technique and how to use the most powerful phrase in selling. 
Experimenting proves that there is never one exact, right product for a customer. 
Add-ons are the critical link to profitability and customer satisfaction. 
When you Tether a customer to your store, you ensure that they will be back, again and again, becoming truly loyal in a time of online disruption. 
This book will teach you other beneficial skills as well like:
Ways to increase every sales associate's DPT, Average Dollar Per Ticket
Ways to increase every sales associate's LPT, Lines per Ticket
The greatest opening line ever written with proven results
The four words that increase a retailer's sale by 4 to 7 percent almost immediately
The five most powerful words that will engage the customer in conversation, learn the customer's true wants and needs and can establish trust instantly
It is tough to be an independent retailer these days. You have very little money to spend on great training for your employees. It's nice to know that there are low-cost solutions available that can help you increase sales profitability in your store. 
The average retail sales employee has less than 1 year of experience. Store owners do not have the time to train each employee to the level they need. Books like the and online learning programs like the Series can be a valuable resource to retail store owners.
Education and training are the silver bullets for brick and mortar retail. 
This article is a book review, true, but if you click on the links throughout, you can get free information and advice take from this book without ever having to spend a dime.