Should You Become a Professional Athlete?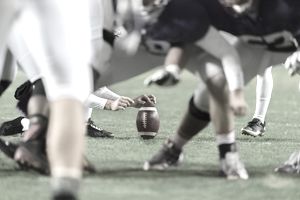 A professional athlete competes individually or as part of a team in organized sports including football, basketball, soccer, tennis, golf, running, skiing, hockey, rugby, gymnastics, figure skating and baseball. He or she practices and trains regularly to improve his or her skills and performance. Very few athletes actually make it to the professional level. Those who do, reach this achievement only after years of playing school or club sports.
Quick Facts
In 2015 professional athletes earned a median annual salary of $44,680.
Nearly 14,000 people were employed as professional athletes in 2014.
About half work in the spectator sports industry.
Employment is expected to grow as fast as the average for all occupations through 2024.
How to Get Your Start
Athletes who compete in team sports, such as football, hockey, baseball or basketball, get their training by participating on high school, college or club teams. Other athletes, including tennis players, golfers, swimmers, bicyclists, runners and gymnasts, receive private or group lessons as part of their training.
What Soft Skills Do You Need to Succeed in This Career?
If you want to compete professionally, you will need superior skills, extensive training and dedication to a particular sport. You will also need soft skills that you won't necessarily acquire through training. 
Interpersonal Skills: Athletes must work well as members of a team, particularly those whose sport involves doing that
Concentration: A strong ability to concentrate is essential.
Decision Making: Athletes must be able to make decisions in an instant while on the field or court.
Hand-Eye Coordination
Physical Stamina
The Downsides of Being a Professional Athlete
Expect to work when the public has time to watch sports, for example, weekends and holidays.
Your schedule will be unbalanced. Athletes train, travel and compete extensively during the season for their sport but have a lot of downtime at other times of the year. For example, baseball players are very busy between March, when Spring Training begins, and October, when the Major League season ends.
Professional athletes can sustain injuries that will end their careers. You should have an alternative career to fall back on.
Common Misconceptions
You will get to "play" all the time: While it may seem like athletes earn money while having fun, they also dedicate a lot of time to training for their sport.
A professional team will draft you: Most people who aspire to be professional athletes don't make it. Many who get drafted by minor league teams do not end up in the majors.
You will make a lot of money: High profile players like Steph Curry have multi-million dollar contracts but his lesser known teammates earn only a tiny fraction of that. 
You will be famous: Have you heard of Eli Manning? The New York Giants' quarterback is a household name. Now, do you know who Weston Richberg is? No? You're not alone. He too plays for the Giants and, as the team's center, is on the field whenever Manning is. Yet, like most pros, he isn't famous.
What Can You Do When You Retire?
Even if you don't have to end your career due to an injury, you won't be able to, nor will you want to, compete forever. Athletes retire at relatively young ages and most want to continue to stay active. 
Coach: Teaches amateur and professional athletes the fundamentals of a sport
Scout: Recruits players for school and professional teams.
Fitness Trainer: Instructs people in exercise and related activities.
: Narrates games, provides commentary and interviews players.
Sports Reporter: Delivers news stories about sporting events on television and radio news, online and in newspapers.
Is This Occupation a Good Fit for You?
Related Occupations
| | | | |
| --- | --- | --- | --- |
|   | Description | Median Wage (2015) | Required Education/Training |
| Dancer | Conveys stories and ideas through music | $14.44/hour | Many years of formal dance training |
| | Officiates at athletic games to make sure they are played fairly | $24,870/year | Requirements vary by state and sport association |
Sources:
Bureau of Labor Statistics, US Department of Labor, , 2016-17 (visited June 11, 2016).
Employment and Training Administration, US Department of Labor,   (visited June 11, 2016).