Sample SOW Contract: The Statement of Work
An Example Contract for the Freelance Writer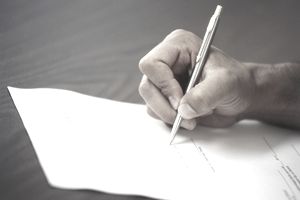 What does a sample SOW contract look like? What exactly is the "statement of work" contract?
You may know the importance of , but have you considered what exactly may be the best kind, and what such a contract looks like? You may want to consider the SOW contract.
The SOW contract is often used versus a more formal contract. This is particularly true in the case of non-profit or education-based clients, but the sample below is from a private company who simply preferred this format.
In addition, I've found that more concrete work with specific to-dos are often best covered with the SOW, as it tends to spell them out most clearly.
Again, contract documents like Statements of Work and can be simpler formats that are easier to understand and work better for a more casual freelance relationship. Of course, to best protect yourself, consider consulting .
Sample Statement of Work
Following is a sample Statement of Work provided by a former client (but significantly changed or redacted, of course!). You'll notice that it has many of the same details as other contract formats, such as deliverables, due dates and so on.
Statement of Work
This Statement of Work (SOW) is by and between Name and Address and Name and Address.
EFFECTIVE DATE: This SOW is effective as of April 8, 2010 ("SOW Effective Date").
Statement of Work
SCOPE OF WORK: English to Spanish translation of 12 fitness essays (or, here is the place to summarize the project).
DELIVERY DATES: You shall complete the Services and/or Work by or in accordance with the delivery schedule below.
Deliverable: 4 translated essays by APRIL 17, midnight
8 translated essays by APRIL 27, midnight
In Word Format, 97 or higher acceptable.
Edits: Each translated document may be returned to you once for editing at the sole discretion of (name). Edits will be avoided at all costs and are not anticipated except in extreme circumstances. Edits will be performed by you within 72 hours of return, or forfeiture of 50% payment for the document will ensue.
Payment: Translation payment of $X USD per English (original) word translated. Official word count will come from X. Down payment is not available for this project. Interim payment is not available for this project. (Of course, if there were a down payment or incremental payments for incremental work, that would be included here. As a freelancer, you should always try to negotiate one of both of these items, if possible.) Final payments to be paid out at latest date of June 20, 2010. Invoice from Translator proofreader should reach (name) no later than May 1, 2010. Domestic payments may be paid via check or Paypal. International payments will be paid in USD via Western Union or Paypal. All domestic contractors must have a completed W-9 on file with (name) before payment will be made.
Rights, Disclosures, Non-compete: You hold no copyrights to materials created. You agree to public non-disclosure of (name's) rates, processes, and client lists. You agree to refrain from competing with (name) for for same client (if subcontracted) during course of this contract ending May 10, 2010.
Execution by Counterparts/Facsimile. This SOW may be executed and delivered in counterparts by facsimile, each of which so executed and delivered counterpart is original, and such counterparts, together, shall constitute but the same instrument. Each of the parties hereto agrees to additionally execute, and deliver, original copies of this agreement circulated subsequent to its initial execution and delivery by facsimile.
There you have an example SOW. Be sure to check out in order to ascertain what works best for both you and your client. Consider both a more formal contract or a simpler Letter of Agreement.