Use Roboform to Enter Sweepstakes with the Click of a Button
Up your sweepstakes game by using robofill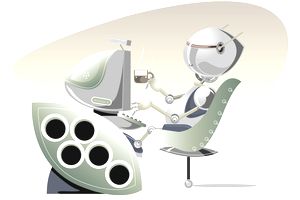 is an indispensable tool for any sweeper. If you use just one aid to enter sweepstakes more easily, it should be this one.
What Is Roboform?
Roboform eliminates one of the hardest parts of entering online sweepstakes: typing your personal information into entry forms over and over (and over!) again. Roboform is an elegant solution to this problem. Simply enter your information into Roboform's easy interface, and you will be able to automatically fill forms with a single click of your mouse.
You'll and energy and be able to enter more sweepstakes than ever before.
Robofill is a program that automatically fills out forms for you. You save information like your name, address, email address and telephone number to Roboform. When you enter sweepstakes, you can simply click a button, and Roboform will automatically identify the form fields and fill them out with your information.
Some of Roboform's Best Features for Entering Sweepstakes
Roboform also allows you to save entry forms for individual sweepstakes. Just fill out the form properly, save it, and when you return to it, it will be filled out perfectly with a single click. This vastly simplifies  which ask for information that isn't stored in your profile or where Roboform doesn't work perfectly.
If you have more than one sweeper in your home, you can use Roboform's Identities to store separate information for each, meaning that each person can enter quickly and easily.
You can also use Roboform's Identities to save information used in different situations, like your home and work address.
Using Roboform
The basic Roboform software is ; however, you may want to consider upgrading to the "professional" version after you try out the software. A paid version gives you access to unlimited identities, saved forms, and advanced features.
Roboform Everywhere is a handy add-on if you enter sweepstakes on multiple devices. Everywhere allows you to sync your data across desktops, laptops, tablets, and ​smartphones so that you can enter sweepstakes at your desk or on the go. See Roboform's website for more information.
 

| Roboform Advantages | Roboform Disadvantages |
| --- | --- |
| Roboform saves you a lot of time while entering sweepstakes | Some sweepstakes won't let you enter with Roboform. |
| It helps you ensure you won't forget your passwords when you return to your daily sweepstakes pages (it can even generate safe passwords for you). | Some sweepstakes sponsors will even disqualify you for entering with Roboform. |
| It makes sweepstakes less boring and less . | Many of Roboform's features are only available in the paid version of the software. |
| It avoids typos and other mistakes on your entry forms. | Some sweepstakes, like those that use Flash, won't work with Roboform. |
| You can use Roboform with your smartphone, where typing is particularly annoying. | You need to double-check your entries before you submit, to make sure that Roboform hasn't made any mistakes. |
| There's a free version that you can try before you buy. |   |
Will You Be Disqualified for Using Roboform?
As with most disqualification questions, the answer depends on the specific sweepstakes sponsor.
Almost all sweepstakes include verbiage in their rules that looks something like this:
Sponsor reserves the right in its sole discretion to disqualify any entry that it believes contains obscene, offensive or inappropriate content, that does not comply with these official rules, or that is not consistent with the spirit of the contest.
That  means that the sponsor can disqualify you for any reason, including using Roboform, without telling you about it in advance. 
However, most sponsors won't disqualify you unless you break a guideline specifically mentioned in their rules.
There are three rules that often apply to using Roboform to enter. These are:
No Automatic Entries. This rule usually covers  where the participant does not have to visit the site to enter. Roboform users visit the sweepstakes sites, although they do not enter their information by hand. Therefore, this rule usually does not apply to Roboform users.
 
No Scripts, Macros, or Bots. Technically, this rule does apply to Roboform, which is a macro program. However, most sponsors intend this to cover automatic sweepstakes services, as above. Therefore, this rule might or might not apply to Roboform users. The only way to be sure is to contact the sponsor or to take your chances with disqualification.
 
Entries Must be Manually Keystroked or Entered by Hand. This rule means that you must type the entry forms by hand, without the use of any aids including Roboform, the fill-in feature of Internet Explorer, etc. This rule definitely excludes Roboform users.
The good news is that very few sweepstakes sponsors mind if you use Roboform to enter. After all, you are still visiting their website and you still have the chance to read their promotional information and purchase their products. Therefore, your chances of disqualification, especially if you read the rules before entering, are very low.
If you're not sure whether Roboform is right for you, download the free version and try it out. If you need more features, you can upgrade to the paid version at any time.
Alternatives to Roboform
Roboform is very popular among sweepstakes fans, but there are other ways to speed up your sweepstakes entries as well. Check out the for other options.