Resources for Opening and Managing a Restaurant
Restaurant Books and Restaurant Websites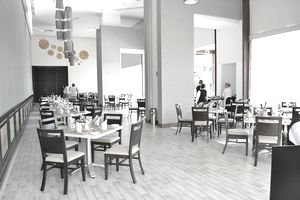 If your dream is to someday open a restaurant, check out these restaurant resources to help you get started. There is a lot of information that help you with everything from writing a restaurant business plan to selecting the perfect restaurant name.
Restaurant Books
Every would-be restaurant owner needs a copy of Running a Restaurant for Dummies. Written in a strait-forward, funny style that is both engaging and informative, this book covers all the major aspects of running a restaurant, from writing the all important restaurant business plan to getting the word out through marketing and advertising.
Other books I recommend include The Everything Guide to Catering by Joyce Weinberg and Food Lover's Companion by Sharon Tyler Herbst. Catering represents a lucrative market for restaurants and this book can help both new and established restaurants start their own catering business. Food Lover's Companion is a must-have when writing a restaurant menu.
For a look at how some celebrity chefs got their start in the restaurant industry, I recommend Paula Deen's sassy biography and Anthony Bourdaine's Kitchen Confidential. Deen writes about how she fell into the restaurant business later in life, through a lunch catering service, called The Bag Lady. Bourdaine tells the story of how he worked his way up the ranks of restaurant kitchen staff, with plenty of anecdotes that restaurant people will love. 
Restaurant Websites
The is another place for information on restaurant industry news, especially new bills and laws that pertain to eating establishments.
Though there is a membership fee to access some of the sites content, much of it is free. They have webinars that focus such topics as going green in a restaurant to interviews with top restaurant CEOs. Every state has their own restaurant association as well, and they are a good place to stay abreast of news in your area.
The Green Restaurant Association is another good place for restaurant owners to check out. It offers tips for going green and lists Green Restaurants from all over the country. A membership applies, but like the NRA site, a lot of content is free. 
Fun Restaurant Resources 
Finally if you are looking for some funny, restaurant related blogs, check out or .