Everything You Need to Know About Being a Plumber
Salary, Training, and Duties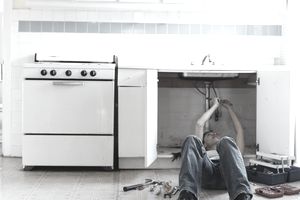 A plumber installs and repairs pipes that supply water and gas to, as well as carry waste away from, homes and businesses. He or she also installs plumbing fixtures such as bathtubs, sinks, and toilets, and appliances, including dishwashers and washing machines.
Quick Facts About a Plumbing Career
Plumbers earned a  of $50,620 in 2015.*
425,000 people worked as plumbers, pipefitters, and steamfitters in 2014.*
Most plumbers have full-time jobs.
About one-tenth of all plumbers are self-employed.
The outlook for this field is excellent, according to the U.S. Bureau of Labor Statistics. Employment is expected to grow faster than the average for all occupations through 2024.
*The Bureau of Labor Statistics combines wage and employment data for plumbers, pipefitters, and steamfitters.
What Does a Plumber Do?
How do employers describe plumbers' job duties? To find out, we turned to employment site,  to see what employers expected from plumbers. Here are some common duties.
"Installs, maintains, and repairs chilled water, hot water and steam systems, traps, valves, piping, backflow preventers, general fixtures of all types."
"Unstops sewers, lavatories, sinks, and commodes."
"Maintains required operating forms and records and assures proper use of all assigned shop equipment."
"In cases of malfunction or breakdown, he or she will visually inspect the fixtures or equipment and use appropriate test equipment such as pressure and vacuum gauges to determine cause and location of trouble."
"Maintains all plumbing, fittings, fixtures and pipelines."
"Develops and presents a complete set of recommendations and related pricing that addresses the initial call, corrects any deficiencies of the systems (undersize, code conflicts, part likely to fail, etc.) and also improvements to the client's comfort and lifestyle."
Why You Might Not Want to Be a Plumber
They often work evenings and weekends.
They often have to work overtime, which could mean being on the job more than eight hours a day and more than 40 hours a week.
In order to respond to emergencies, they typically are required to be on call regularly.
Plumbers frequently are injured. Their work subjects them to burns, cuts, and falls.
How to Become a Plumber
Most plumbers receive their training by doing an , which combines classroom instruction with paid on-the-job training. Apprenticeships are sponsored by trade unions and employers and last from four to five years.
You will need a high school or equivalency diploma and must be at least 18 years old to be accepted into a program. In the classroom, you will learn about local codes and regulations, blueprint reading, and safety.
Plumbers need a license to work in most states and municipalities in the U.S. In addition to having two to five years of experience, depending on where the license is issued, you must also pass an exam.
What Soft Skills Will You Need?
To work in this occupation, you will need certain soft skills. These are strengths that will allow you to succeed at your job.
: You will have to pay attention to what customers tell you in order to understand their problems.
Troubleshooting: After listening to a complaint, you will have to determine its cause and then figure out how to make the proper repairs.
: When solving a , you may have to weigh possible solutions before you can choose the best one.
: You must be able to clearly explain to customers the work you are planning to do and the related costs.
Physical Strength: Plumbers must be able to lift heavy equipment and tools,
What Will Employers Expect From You?
What job requirements, in addition to skills, experience, and a license, are employers seeking? Again, we looked at job announcements on Indeed.com to see what different employers were posting as expectations.
"Able to read and interpret work orders, parts requests, drawings/schematics/blueprints and manuals in order to accomplish assigned duties."
"Able to follow policies and procedures."
"Must be able to work under time and budgetary constraints and pressures."
"Show yourself as professional and knowledgeable to win new referrals and repeat business."
"Outgoing, professional, clean cut, aggressive, and drug-free."
"Friendly with a great deal of patience."
Is This Occupation a Good Fit for You?
: RCI (Realistic, Conventional, Investigative)
: ESTP,   (Tieger, Paul D., Barron, Barbara, and Tieger, Kelly. (2014) Do What You Are. NY: Hatchette Book Group.)
Occupations With Related Activities and Tasks
|   | Description | Median Annual Wage (2015) | Minimum Required Education/Training |
| --- | --- | --- | --- |
| | Installs and repairs pipes that carry gases, chemicals, and acids | $50,620 | Apprenticeship (4-5 years) |
| | Installs and repairs wood, drywall, plastic, or fiberglass structures | $42,090 | Apprenticeship (3-4 years) |
| | Cuts, installs, and repairs glass | $39,440 | Apprenticeship (4 years) |
Sources:
Bureau of Labor Statistics, U.S. Department of Labor, , 2016-17 (visited October 31, 2016 ).
Employment and Training Administration, U.S. Department of Labor,  (visited October 31, 2016).