Mini Resume Template and Examples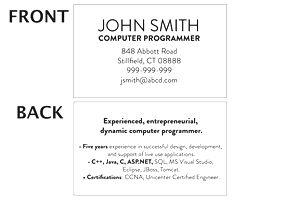 A mini contains a brief summary of your career highlights and qualifications. The mini resume highlights your accomplishments rather than present a full-length resume.
When to Use a Mini Resume
In most cases, your traditional long-form resume will be appropriate. A mini resume, however,  comes in handy at job fairs or networking events when you're meeting with many people and want to leave them with something more than a business card, but less bulky than a full resume.
You can use the mini resume when you're networking and want a contact to pass on your information to a hiring manager or recruiter. Your goal is to provide the basics a company needs to decide whether it should pursue you as a candidate.
Having on hand a mini resume in the format of a business card can be useful since it's easy to carry and you can pass it on to potential employers, clients, and business contacts you meet unexpectedly.   Arranged thoughtfully, the mini resume can impart far more information than your basic business card.
Mini Resume Template
Contact Information
The first section of your resume should include information on how the employer can contact you, or this contact information can be printed on the front of a standard-size with your career highlights on the back. (A professional printer may be able to generate a slightly larger card if you have more information than can fit on a standard business card—but remember, your goal is conciseness.)
First Last Name
Street Address
City, State Zip
Phone (Cell/Home)
Email Address
Career Highlights
A mini resume lists your key achievements and skills.
The best way to present your information is .
Mini Resume Sample #1
Janet Miller
848 Excelsior Circle
Stanford, MI 09991
999-999-9999
jmiller@abcd.com
Career Coach
Certified Workforce Development Professional with 14 years experience as a Career Specialist
Ability to provide career counseling, coaching, and job seeker services
Expertise at identifying values, developing possible career paths, and proposing strategies for entering a career
Mini Resume Sample #2
John Smith
848 Abbott Road
Stillfield, CT 08888
999-999-9998
jsmith@abcd.com
Computer Programmer
Five years experience in successful design, development, and support of live-use applications
C++, Java, C, ASP.NET, SQL, MS Visual Studio, Eclipse, JBoss, Tomcat
Certifications: CCNA, Unicenter Certified Engineer
Related Articles: