Jobs Report and the Monthly Employment Growth Statistics
Where the 200,000 Jobs Were Added in January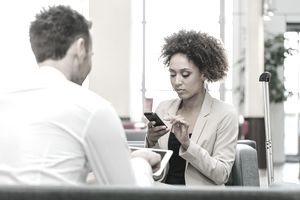 The U.S. economy gained 313,000 jobs in February 2018. The economy needs 150,000 new jobs each month to keep expanding. This optimal level of growth means the Federal Reserve will probably raise interest rates at its March FOMC meeting. 
Where the Job Growth Came From
Construction added 61,000 jobs. That's a positive sign for the housing market and another reason the real estate market is not going to crash anytime soon.
The retail industry gained 50,300 jobs. That's welcome news, since store managers had been slashing jobs since March 2017. Online sales have been cutting into bricks and mortar stores. Wholesale, which closely follows retail, added 5,800 jobs.
U.S. manufacturing gained 31,000 jobs because the strong dollar is subsiding. A weaker dollar helps exports. Durable goods gained 32,000 jobs, helped by a 6,200 job gain in auto manufacturing. Pay close attention to how many manufacturing jobs are added or lost each month. This is a significant leading economic indicator. Factories add workers as soon as they receive a large enough order. It could take months or even years before the order ships and shows up in economic output. Manufacturing is a better indicator of recession than the service sector, whose job levels remain consistent through the boom-and-bust cycle.
Health care added 29,100 jobs. The industry was a strong performer even during the recession.
Uncertainty over Trump's health care plan has dampened employers' confidence.
Financial activities added 28,000 jobs. Banks will add positions as long as the Fed continues to increase interest rates. Higher rates bring greater profitability to lenders because they can charge more for loans.
Temporary help services gained 26,500 jobs.
Companies often add temp jobs when business is picking up, but they aren't confident enough to add full-time positions.
The government gained 26,000 positions. That's despite President Trump's promises to streamline the federal government.
Leisure and hospitality added 16,000 jobs. Most of these workers are hourly employees. This sector usually adds from 20,000 to 30,000 positions a month.
The mining industry added 8,000 jobs, spurred on by higher oil prices. Excess supply from U.S. shale oil producers is getting absorbed and OPEC agreed to limit its output. As a result, future oil prices are expected to rise.
Utilities gained 1,200 jobs. 
Industries That Lost Jobs
Information services lost 12,000 jobs. This sector, especially Silicon Valley, is critical to American global competitiveness. 
The U.S. Jobs Report Explained
The monthly jobs report is also called the "Employment Situation Summary" and the "Non-Farm Payroll Report." It's a critical economic indicator because it's the first report of the month. It's also the most comprehensive and credible.
The Bureau of Labor Statistics surveys 160,000 non-farm businesses and agencies on the number of jobs, the wages paid and the hours worked. The jobs report will tell you which industries are adding jobs, whether American workers are working longer hours and how fast salaries are increasing.
The jobs report also provides the unemployment rate. To get the number of unemployed individuals, the BLS must undertake a separate survey of households instead of businesses. This household report also includes workers' age, sex and race/ethnicity. The household survey has a more expansive scope than the establishment survey. That's because it includes the self-employed, unpaid family workers, agricultural workers and private household workers, who are excluded by the establishment survey. 
The household survey is not as accurate as the business establishment, though. It has a smaller sample size. That's why employment numbers are taken from the establishment survey. That's why the current unemployment statistics show a different trend than the jobs report.
There are two other jobs reports.
The monthly ® is released on the first Wednesday of each month. It's produced by the ADP Research Institute, SM and Moody's Analytics. It uses business payroll data to report on the number of jobs added in the private sector. It excludes farming (as does the BLS report) and, more important, government jobs (included in the BLS report). For that reason, it's considered incomplete.
The ADP Report is important though, because it's released the Wednesday before the BLS report. It gives some analysts an earlier view of what might happen in the Friday report. ADP is quick to say it's not intended to be predictive. Like the BLS report, it's revised as more data comes in later in the month. These revised numbers are 96 percent correlated with the revised BLS jobs report. 
The Department of Labor also releases a . This measures the claims for initial unemployment benefits reported by each state every week. It also reports how many of the unemployed are still receiving benefits. This report gives an indication of trends, whether there are more or less unemployed than the week before. The main value of this report is that it is weekly and so it gives some idea of trends in between the monthly jobs reports. It isn't accurate when predicting the monthly report because it is volatile.