imgbox Review
A full review of imgbox, a free online image hosting service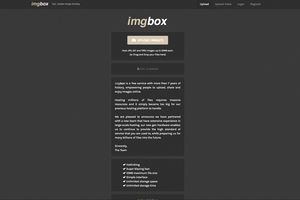 imgbox is a that stores your photos for a lifetime. You can link directly to the full sized images you upload and not be restricted by bandwidth limitations.
You don't have to create a free account with imgbox.com, which means you can start uploading your pictures right away.
Pros
No storage expiration
No bandwidth limitation
Very easy to use
Registration isn't required to upload or download images
Accepts the most popular formats
Supports drag and drop uploads
Supports hotlinking
Can upload multiple pictures at once
Image downloads retain their name and extension
Cons
Unable to create a title or description for uploads
Only three image file formats are acceptable
Acceptable Image Formats
GIF (still or animated), JPG, PNG
imgbox Limitations
Any image you upload to imgbox must not exceed the 10 MB file size limit.
Unless the terms of service are violated, photos have no storage expiration date.
Benefits of Registered With imgbox
Registration is completely free, and lets you do a few things you can't do as an anonymous user.
Without a user account, when you upload images to imgbox, you're constantly asked if your images are family safe or contain adult content. You're also asked what size of a thumbnail to create, whether to enable comments and what (if any) gallery the pictures should be added to. If you find yourself changing these settings to the same options with each and every upload, just make a free account to define the default upload settings.
An imgbox account also lets you easily delete your uploads, edit galleries, and comment on photos uploaded by other users.
More About imgbox
Your uploaded images can be easily shared on social media sites like Twitter, Google Plus, Facebook, Reddit, and Pinterest​
Thumbnail and full-size links, as well as HTML code and BBCode links, are all shown after you upload pictures to imgbox
When uploading photos, you can specify whether to allow or disable commenting
If the link to a thumbnail image is accessed, user comments (if enabled) and social media sharing buttons are present, while full-size links show just the image and is useful for hotlinking
A gallery of your images can be built, and they can contain up to 500 photos
Non-registered users are given a delete link so they can remove pictures if they later decide to
Our Thoughts on imgbox
For a free  hosting service to not impose an expiration on photos is wonderful. This means you can upload your photos and not worry about them becoming unusable because of little to no activity.
I say above that images you upload to imgbox retain their original name and extension. This means if you upload an image called portrait.png, it will also be downloaded as such when someone decides to save your image. I like that this is the case so it's easy to identify the pictures given that there aren't any title or description settings on imgbox.
Most other image hosting websites accept more than imgbox's mere three file types, but at least the ones it supports are probably enough for most people.