A Beginner's Guide to Setting Up Email Templates in Gmail
Utilize Gmail's Canned Responses for Repetitive Emails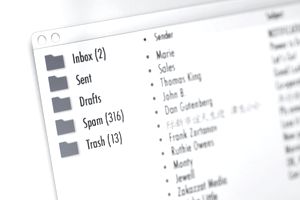 Chances are if you frequently use then you are sending the same, or very similar, emails out over and over again. For instance, in some cases you are sending an introductory email to a prospect, scheduling an appointment or meeting with a prospect or client, or answering frequently asked questions over and over again. Not only is this monotonous, it's counter-productive and takes up a lot of valuable time.
As a business professional, you know all too well that time is money.
The good news is that if you are a Gmail user, then you can save a lot of time by using email templates, also known as "canned responses." 
How to Save Time and Personalize Your Emails
Rather than having to type out each new email from scratch when creating new emails or responding to emails, with allows you to save the business emails you write on a regular basis. In the future, when you need to send an email or respond to a question, you simply load the email template / canned response you created and saved and make any specific tweaks if necessary. These tweaks, or amendments, might be as simple as adding a recipients name or modifying the answer just so slightly. It's important to have this option to modify (and you "should" spend the time to do that) because, in today's competitive work world, custom-tailored personalized communication is key.
Many people already use a similar method, by copying and pasting an email template from a document or text file into their email message. What they don't know is that this type of functionality is (already) conveniently built directly into Gmail.
Here are the steps you can take to implement Gmail canned responses into your email workflow.
Steps 1-10 for Using Gmail's Canned Response System
Login to your Gmail account.
Click on the settings link in the upper right-hand corner. This is the icon that looks like a gear.
Click on Settings.
Click the Labs tab from the top level navigation.
Look for the feature called Canned Responses. If you can't find it then you can search for "Canned Responses" in the search bar.
Select Enable, located next to the Canned Responses feature.
Click Save Changes located at the bottom of the page.
You will now be able to see a "canned responses" feature whenever you start composing an email.
If you want to create a new canned response, start by composing your email. Then, using the arrow drop-down, select New Canned Response and name your new canned response.
To use a canned response, open up a new email and select the canned response you want to use from the drop-down menu. You can then edit the canned response as necessary
Time Required: 5 minutes
Degree of Difficulty: Easy