How to Get Free Photo Books and More from Shutterfly
Create a Family Keepsake With a Free Shutterfly Book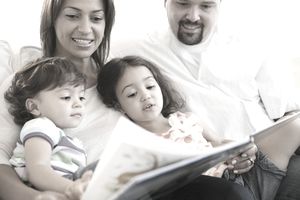 One of my favorite freebies are free photo books. I create a photo book as a keepsake for every year as well as ones for our family vacations and special events. Since photo books can run anywhere from $30-$70, I'm saving hundreds of dollars each year.
The most common free photo books available are free Shutterfly books. Since Shutterfly is my favorite place to create photo books, this works out wonderfully.
Through the rewards programs, newsletters, and free membership programs below, you can get free Shutterfly codes and other photo book website codes that you can redeem to get free photo books.
Note: Although these codes can be redeemed for a free photo book, you may have to pay shipping on your purchase.
Current List of Free Shutterfly Codes
Here's a current list of Shutterfly codes that will get you a free photo book.  Please note that you will most of the time need to pay shipping on your free items.
No codes availblae at this time.
One of the easiest ways to get free photo books is to earn them through various rewards programs.
Each reward program will you have you do various tasks to earn points which then you can redeem for a free photo book. It may be taking surveys, entering product points, or simply visiting logging into the website on a regular basis.
Here are the reward programs that you can regularly get free photo books through:
Kellogg's Family Rewards
As a member of the Kellogg's Family Rewards program, you can redeem your points for either a free Shutterfly book in the 8x8 or 8x11 size.
You can enter codes found on the Kellogg's products you buy but there are also tons of free codes available that you can apply to your account.
Pampers Rewards
Another rewards programs that lets you earn free Shutterfly books is Pampers Rewards. For 1,000 points you can get a free 8x8 photo book from Shutterfly.
Pamper reward codes are found on Pampers diapers, wipes, and other Pampers products. They also regularly release free rewards codes on the .
Huggies Rewards
Huggies Rewards is another company that lets you redeem points in for free photo books. Currently you can get a 8x8 photo book from Shutterfly for 750 points.
You can earn Huggies reward points for buying their products but they also occasionally send out free codes in their emails.
MyCokeRewards
You can from Shutterfly. These are currently available and are 250 points which will get you a free 20-page 8x10 hard photo book for free.
You can earn MyCokeRewards by entering codes found on Coca-Cola products. There are also occasionally free codes handed out that you can apply to your account.
Swagbucks
Through , you can redeem your bucks to get gift cards that can be used at Shutterfly, which you can use to make a photo book.
You can earn Swagbucks through watching videos, playing games, shopping, and many other activities.
Bing Rewards
Use your points to get a free 8x8 Shutterfly photo book. They also have sent out emails containing free Shutterfly photo book codes in the past.
Get Free Photo Books Just for Joining
Sign up with the free programs below and you'll sometimes get emails from them that contain codes you can redeem for free photo books.
Similac Strong Moms
Join the free Similac Strong Moms program and you get a free welcome pack that includes a free photo book from Shutterfly, a free first trimester OB gift, and a third trimester OB gift.
This is also a great program to belong to if you want to get free baby samples and free formula.
Mom365
When you sign-up with the free community, Mom365, you'll get $20 gift card to spend at Shutterfly as well as some other welcome gifts. And you guessed it, this gift card can be used to get a free photo book.
Get Free Photo Book Codes In Your Email
Take a few seconds to join these newsletters and you'll receive free photo book codes in no time. The newsletters below regularly send out free Shutterfly photo book codes.
Tip: Be sure to check those spam filters regularly for any free photo book codes you may have missed.
IKEA Family
Join IKEA Family for free and you'll get tons of perks including regular emails that will sometimes include free Shutterfly photo book codes. Other perks of IKEA Family include free child care, free coffee or hot see, and discounts.
Jo-Ann
Sign up for the because every so often they'll send out a code for a free photo book from Shutterfly.
Motherhood Maternity
Another newsletter you'll want to sign up for is the newsletter. They occasionally send out codes for free Shutterfly books.