How to Become an Art Director
The Job Requires Experience as Well as Creative Vision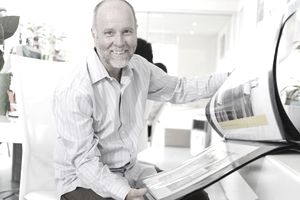 An art director oversees the art, the photographs, graphics and drawn images, that appear in newspapers, magazines, and on book covers. An art director is usually the person who oversees the entire design department, working with photo editors and editors to coordinate how images will match up with words.
More than simply assigning a photographer or illustrator to create an image, an art director works on creating visual concepts.
At a magazine, for instance, an art director would work to the specific look and feel of the entire magazine, ensuring there's a unified visual look throughout. If you notice that certain magazines maintain certain layouts and certain types of images, you're picking up on the work of the art director.
Where Art Directors Work
Art directors work throughout media in advertising, in book publishing, and at magazines. They usually specialize in one sector, focusing on, for example, advertising or book publishing, and the type of work they do varies on their subset of the industry.
At magazines, art directors conceive of layouts and the art that will match up with the various stories in the magazine. At book publishing houses art directors often focus solely on book covers, hiring designers to create those covers and overseeing their work. At some publishing houses, the art director may also do some of the designing.
An art director at an will work with an editor or a copywriter to create the images that go with an ad campaign. Whatever sector they work in, most art directors specialize in a specific area, such as print (creating ads for magazines), television or the internet.specialize in a specific area, such as print (creating ads for magazines), television or the internet.
How To Become an Art Director
Most art directors have degrees from art schools, where they've studied graphic design, photography, and drawing. A background in graphic design is essential for most art director jobs today.
Those who want to get into the field will need to know programs such as Photoshop, InDesign, lllustrator and other similar design software, which allow them to edit photos and create graphics. Most art directors and designers tend to favor Apple computers. A good art school will train students in these and other programs they'll need to know, providing them , which will crucial for landing a job in the industry. 
Someone looking to work as an art director in an ad agency, for example, needs to show a potential employer sample ad campaigns he's created. To get these samples, you need to have experience from an internship or from your art school experience.
Education and Training for Art Directors
Given the competition for art director positions, most require at minimum a bachelor's degree in design or graphic arts. For those planning to go into advertising, a concentration or minor in that subject is recommended.
A variety of work samples showing versatility is required, and most art directors spend some time in junior positions (such as designer or assistant art director) to acquire related experience.
Ad agencies usually ask for at least three years' experience. For positions in journalism, the best path is via internships, where candidates can get valuable on-the-job experience.