Going Back to Work? Answer These Questions First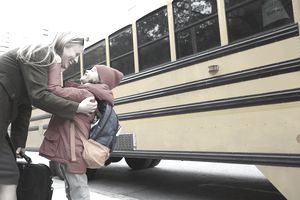 Like many people who take time off from their careers in order to be stay-at-home parents, you may decide to go back to work when your children start school. Since your kids will be out of the house all day, you think that childcare won't be a worry as it would have been had you returned to work earlier. That premise may not be entirely true. If you consult the calendar of your local school district, you will notice that students have a lot of time off from school.
Schools are closed during single-day holidays and multi-day vacations, and students have days off for parent-teacher conferences. You will have to make plans for them during those times. Then there are the days off you can't possibly plan for like when your child is ill or the school is closed because of inclement weather. If you can't easily take off from work when things like that happen, you will have to come up with a contingency plan.
Going back to work has many benefits—and for most people it is a necessity—but it is not always easy. You will definitely have to do some planning in advance. To get started ask yourself the following questions and make sure you have answered all of them before you go back to work.
Where will your children go after school? Schools typically let out at 2:30 or 3 pm. Will you be home on time? If not, you will have to arrange for reliable childcare. Some school districts offer afterschool programs where children can participate in extracurricular activities or do their homework. If you plan to rely on your child going home with a friend and his parent, have a backup plan in place in case the other child is ill.
What will you do if your child is sick and can't go to school? Kids get sick, especially when they are in school surrounded by other kids. If your child is too sick to go to school, you will have to keep her at home. Some employers are very generous with their sick leave policies and allow workers to take days off for themselves or to care for their family members. Others, unfortunately, are less generous. If a limited number of sick days won't allow you to stay home with your child, you will need backup childcare.
What will you do if you get a call that your child is sick and has to be picked up from school early? When kids get sick, it is sometimes at the most inconvenient time—like right before your 11 am meeting with a client. It may be hard, if not impossible, to drop everything and run over to school to get him. You will need to make arrangements with someone who can pick him up and take care of him until you can get there.
Where will your children stay if there's a snow day?  Depending on where you live, schools may close due to inclement weather or some other emergency. In a particularly bad winter, there can be several snow days. Sometimes schools close early if a storm starts during the day. You will have to have a place for your children to stay during these occasions, and possibly someone to pick her up from school or the bus in case of early dismissal.
Where your children spend the summer, school holidays, etc.? Most jobs are full-year positions so it is unlikely your vacations and your children's will coincide. If you work with other parents, their children will probably have off from school when yours do and your boss might object if all of you try to take vacations at the same time. You will need to find vacation activities for your children. Investigate holiday programs at camps and community organizations. Of course, you will also need a contingency plan in case your child gets sick.