Current U.S. Federal Government Tax Revenue
Who Really Pays Uncle Sam's Bills?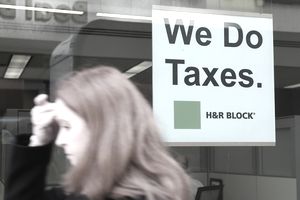 The U.S. government's total revenue is estimated to be $3.422 trillion for fiscal year 2019. That's the  from the Office of Management and Budget for October 1, 2018 through September 30, 2019. 
Sources
Where does the federal government's revenue come from? Individual taxpayers like you provide most of of it. Income taxes contribute $1.688 trillion, half of the total. Another third ($1.238 trillion) comes from your .
This includes $905 billion for Social Security, $275 billion for Medicare and $47 billion for unemployment insurance. 
Corporate taxes add $225 billion, only 7 percent. Trump's tax plan cut taxes for corporations much more than it did for individuals. In 2017, corporations paid 9 percent and income taxpayers paid 48 percent. 
The Federal Reserve's net income adds $55 billion. Its revenue comes from a variety of activities. For example, the Fed is the bank for federal government agencies. It pays interest on the billions of dollars in operating funds deposited by these agencies. In addition, the Fed owns $4 trillion in U.S. Treasury securities. It acquired through quantitative easing. It earns interest on those notes and bonds. But that income is declining as the Fed reduces its holdings. 
Customs excise taxes and tariffs on imports contribute $44 billion. The remaining $17 billion of federal income comes from estate taxes and miscellaneous receipts.
Trump's tax plan has also lowered that from $23 billion in 2017.
Why Raising the Corporate Tax Rate Might Not Help You
Shouldn't corporations pay more? It might not matter. Corporations pass on their tax burden to you. They will either raise prices or reduce wages. They must maintain their profit margins at a certain level to satisfy stockholders.
If taxes are raised, they pass that on to consumers or workers to keep share prices high. That's why it doesn't matter what happens with the . There is no way around it, U.S. taxpayers will always have to pay taxes. The best way to reduce income taxes is to reduce spending, not shift it to corporations.
How Revenue Relates to the Deficit, Debt, and GDP
The government's annual income will only pay for 88 percent of spending, creating a $985 billion budget deficit. Shouldn't Congress only spend what it earns, just like you and me? It depends. Deficit spending boosts economic growth in a recession. That's when the government steps in to create jobs with stimulus spending.
Once the recession is over, the government should live within its means and spend less. It should raise taxes, if needed, to reduce the deficit and the debt. That will keep the economy from overheating and forming dangerous bubbles. It should switch from expansionary to contractionary fiscal policy.
The revenue collected equals 16.3 percent of gross domestic product. That's the nation's measurement of economic output. That's like saying the average tax rate for the United States itself is 16.3 percent.
 If that much production is going to the federal government, then you want to make sure it's reinvested into the economy to support future growth.
It's also much lower than the historical 19 percent target. But that's because the Trump administration cut taxes. It also estimates GDP will increase 3.2 percent in FY 2019. That's higher than the ideal growth rate. 
Revenues would be much higher without the Trump tax plan, not to mention the extension of the Bush tax cuts and the Obama tax cuts. Those tax cuts were meant to fight the 2001 and 2008 recessions. They were supposed to spur the consumer spending that drives almost 70 percent of economic growth. Most people didn't even realize this happened, since the tax cut showed up as reduced withholding instead of a check. Instead of spending the cuts, people used some of it to pay off debt.
The recession scared people into saving more and using credit cards less. So, the budget didn't expand enough to spur economic growth.
Now that the recession is over, those tax cuts should be reversed. Taxes should be increase not cut. An economic expansion is the time to pay off the debt, not add to it. It's good for the budget, and it's also good for
U.S. Tax Revenue by Year
Here's a record of income for each fiscal year since 1960. There are links to more details about the revenue back to the FY 2006 budget. fell off during the recession, but started setting new records by FY 2013.
FY 2019 (est.) - $3.42 trillion
FY 2018 (est.) - $3.34 trillion
FY 2017 - $3.32 trillion.
FY 2016 - $3.27 trillion.
FY 2015 - $3.25 trillion.
FY 2014 - $3.02 trillion.
FY 2013 - $2.77 trillion.
FY 2012 - $2.45 trillion.
FY 2011 - $2.30 trillion.
FY 2010 - $2.16 trillion.
FY 2009 - $2.10 trillion.
FY 2008 - $2.52 trillion.
FY 2007 - $2.57 trillion.
FY 2006 - $2.4 trillion.
FY 2005 - $2.15 trillion.
FY 2004 - $1.88 trillion.
FY 2003 - $1.72 trillion.
FY 2002 - $1.85 trillion.
FY 2001 - $1.99 trilion.
FY 2000 - $2.03 trillion.
FY 1999 - $1.82 trillion.
FY 1998 - $1.72 trillion.
FY 1997 - $1.58 trillion.
FY 1996 - $1.45 trillion.
FY 1995 - $1.35 trillion.
FY 1994 - $1.26 trillion.
FY 1993 - $1.15 trillion.
FY 1992 - $1.09 trillion.
FY 1991 - $1.05 trillion.
FY 1990 - $1.03 trillion.
FY 1989 - $991 billion.
FY 1988 - $909 billion.
FY 1987 - $854 billion.
FY 1986 - $769 billion.
FY 1985 - $734 billion.
FY 1984 - $666 billion.
FY 1983 - $601 billion.
FY 1982 - $618 billion.
FY 1981 - $599 billion.
FY 1980 - $517 billion.
FY 1979 - $463 billion.
FY 1978 - $399 billion.
FY 1977 - $356 billion.
FY 1976 - $298 billion.
FY 1975 - $279 billion.
FY 1974 - $263 billion.
FY 1973 - $231 billion.
FY 1972 - $207 billion.
FY 1971 - $187 billion.
FY 1970 - $193 billion.
FY 1969 - $187 billion.
FY 1968 - $153 billion.
FY 1967 - $149 billion.
FY 1966 - $131 billion.
FY 1965 - $117 billion.
FY 1964 - $113 billion.
FY 1963 - $107 billion.
FY 1962 - $100 billion.
FY 1961 - $94 billion.
FY 1960 - $93 billion.
FY 1789 - FY 1959 - $1.1 trillion. (Source: "," OMB.) 
Understand the Current Federal Budget