Commercial Fisherman: Job Description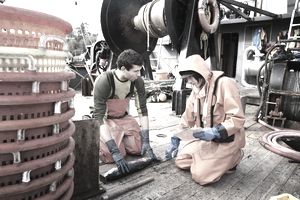 A commercial fisherman, also known as a fisher, uses equipment including nets, fishing rods, and traps, to catch fish and other marine life that will be consumed by humans or used as animal feed or bait. Some work as members of large crews on big boats in deep water. Other fishermen work in shallow water on small boats with few people.
Quick Facts
Over 28,000 people worked as fishing and hunting workers in 2014.*
They earned a  of $35,250 and hourly wages of $16.95.
Many people who work in this occupation are self-employed. 
Job Outlook: The U.S. Bureau of Labor Statistics predicts little to no change in employment through 2024.
*The U.S. Bureau of Labor Statistics does not report separate employment figures for fishing and hunting workers.
The Truth About Fishermen
Most jobs for fishermen are seasonal. Since opportunities are typically available during the summer, , students and others who are off during that time fill those positions.
Most people get jobs through recommendations from friends and family.
This job will take you away from home for weeks or months at a time.
The work is strenuous.
Fishermen risk getting injured or killed on the job. Drowning causes most injuries and fatalities.
For an excellent perspective on what it is like to work as a commercial fisherman read "."
How to Become a Fisherman
One who wants to work as a fisherman usually receives on-the-job training. Most fishermen begin as deckhands. They may also receive training through vocational-technical (votech) programs offered at secondary schools, but such programs are usually available only in coastal areas.
Operators of large vessels must receive training that is approved by the .
What Soft Skills Do You Need?
 and : These skills are useful for communicating with boat captains and crew members. 
: The ability to weigh the pros and cons to various solutions to problems comes in handy when you must react to deteriorating weather conditions.
Attention to Detail: You must be able to evaluate the quality of your catch.
How Will You Advance?
Fishermen usually begin their careers as deckhands and receive on-the-job training after finding a job through recommendations from friends and relatives. Companies that run larger trawlers and fish-processing ships accept applications through their human resources departments. An experienced fisherman may become a captain's assistant, also known as first mate, a boatswain who supervises the deckhands and, eventually, the captain of a vessel.
Is This Occupation a Good Fit for You?
: REI (Realistic, Enterprising, Investigative)
Occupations With Related Activities and Tasks
|   | Description | Median Annual Wage (2014) | Minimum Required Education/Training |
| --- | --- | --- | --- |
| | Handles, plants, transplants or harvests trees, shrubs and plants | $19,060 | H.S. or Equivalency Diploma or less |
| | Selects animals for breeding | $40,000 | H.S. or Equivalency Diploma or Some College |
| | Cares for live farm, ranch or aquacultural animals | $22,930 | H.S. or Equivalency Diploma or less |
| | Drives agricultural equipment that is used to till soil and plant and harvest crops | $26,910 | H.S. or Equivalency Diploma |
Sources:
Bureau of Labor Statistics, U.S. Department of Labor, , 2016-17 (visited March 8, 2016 ).
Employment and Training Administration, U.S. Department of Labor,  (visited March 8, 2016).