Types, Advantages, and Applications of Built Up Roofs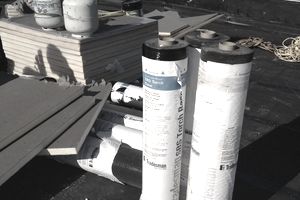 Built-up roofing is the most popular material used on low-slope roofs. A built-up roofing is composed of several layers of bitumen surfaces and finished up with an aggregate layer or coating. Recent built-up products incorporate a rigid insulation layer as part of the built-up roofing. The fabrics or layers used on built-up roofing are called ply sheets. These sheets are commonly reinforced with fiberglass mats or organic mats, depending on their application.
Ply sheets are commonly produced in a standard size of about 36 inches wide.
Types of Built-Up Roofing
There are several types of built-up roofing alternatives for you to use. Other kinds of built-up roofs are smooth Asphalt built up (Hot or Cold), and Ballasted Asphalt built up. The bitumen material commonly used in built-up roofing systems is asphalt, coal tar or cold-applied adhesive. The surfacing and materials used on built-up roofing are so varied and depend entirely on your project and its budget. Ballasted asphalt is being used more regularly than before because it can provide an excellent finish surface and its material is a better fire retardant agent.
There is also Cold Built-Up roofing that, instead of requiring hot asphalt for its application, can be sprayed or applied with a squeegee. It doesn't have toxic fumes when applied and it is better for environmentally sensitive projects.
Cold Built up is not dependent on weather and it has a better performance when compared to hot built-up roofing.
Pros and Cons of Built-Up Roofing
These are some of the advantages of using Built-up roofs:
It provides excellent waterproofing protection.
Built-up Roofing provides ultra-violet protection.
Low- maintenance
It lasts longer to weather inclemency.
Gravels or minerals can be used as surfacing material
Low-life cost maintenance
However, the process has some drawbacks as well, such as:
Slower Installation
Hazard fumes and vapors when installing it
Higher installation costs
Susceptible to wind and water damage
How to Repair Built-Up Roofing
Built- up roofs might get damaged as time goes by, and the right maintenance should be given to restore these areas. Here are some of the most common issues with built-up roofing applications:
Repair Open Joints
To repair open joints, be sure to add some cement under the open seam and make sure to hold it down so it can adhere to the substrate. if this doesn't work, cut a large piece of felt and nail it down over the open joint. Secure with nails and put some cement over the nails. Spread some gravel over the cement and let it dry.
Repair Small Blisters
Small blisters can be repaired easily. Using a knife cut the blister and allow it to dry. If the top layers are damp, keep cutting down until you have reached a dry layer. Remove the felts and install new felt over the area. Apply the asphalt and cover with chippings over the area. If chippings are not available you can use liquid-applied coatings on top of the repaired area.
Undulations
To repair built-up roofing undulations, simply add layers on top of the area to level it. Make sure the substrate is in good conditions before proceeding.
Cracks
If you have cracks on the asphalt surface, then it should be an easy fix. Start by cleaning the area of gravel and debris. Apply a coat of asphalt cement over the area and install some roofing felt in the area. Make sure there is at least 4 inches of overlap to guarantee that you are covering the area. Repeat this process again and apply a final coat of asphalt cement. Apply gravel on top of the cement.