Walmart's Best Black Friday Doorbusters and Deals
Will Walmart Impress Shoppers With Low Prices on Black Friday?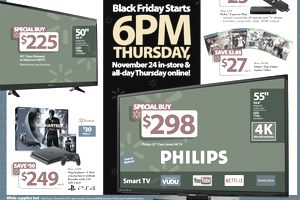 Walmart has released its Black Friday ad and along with the usual deals that we have seen year-after-year, there are some bargains that are worth noting, but not as many as we expected. If you are planning to go to Walmart's Black Friday sale, the doors open at 6 p.m. on Thanksgiving and online all day.
The DEI Drone Phantom Standard 3 is an entry-level model that is rated with high scores.
So far, this is the cheapest price that we've seen for a high-quality ready-to-fly drone. Best Buy and Target are advertising it for $399 on Black Friday. 
Philips 55-inch 4K 2160p 60Hz LED Smart HDTV (44PFL5601), $298.00
The Philips 55-inch 4k TV is Walmart's best Black Friday TV deal and the cheapest of the large-sized 4k TVs, and not only at Walmart, but compared to other retailers as well. To find a premium brand at such a low price is astounding. But what is confusing is that this particular model number cannot be found on the Philips website, or anywhere else. People are assuming it is the at Walmart.com which sells for $498. We are not as convinced.
On the side of cautious optimism, this will likely be a fabulous deal. However, when it comes to buying TVs, there is always a significant variation between models. If you want this deal, it is an in-store deal only.
Be ready to camp out early at Walmart. This will sell out quickly.
Want a Bigger TV?
If you want to go with a larger screen, the VIZIO 60-inch LED HDTV model D60N-E3, in-store at $398, is a bargain. VIZIO is a budget brand, but not unimpressive. For shoppers wanting a large TV and who do not care about 4k, this should be a great deal.
What is not great about the VIZIO E-series? The sound quality is lacking, but that is a fixable problem if you have a decent home theater set up.
If your heart is set on getting a 60-inch 4k TV, Sam's Club will be selling members the for $548 ($230 savings) on Black Friday.
Walmart vs Best Buy TV Prices for Black Friday
It is worth mentioning that we found that Walmart is already meeting the prices on several TVs being promoted during Black Friday at Best Buy. This expands the potential of finding a fantastic TV deal on a new television.
Razor Hovertrax 2.0 Black Hoverboard
Walmart has the Hovertrax 2.0 Hoverboard priced at $273 ($125 savings) on Black Friday. This is the best price that we have found. If they sell out, Academy Sports and Shopko will have it for $299. (Not available in Delaware or Montana.)
Sanus Full Motion TV Wall Mount $69 (Save $51)
The Sanus wall mounts do a good job of securing televisions to a wall. You can find cheaper TV mounts, if want peace of mind, Sanus makes a good product. Walmart is featuring the that fits most 47-70-inch televisions. If you do not want to pay that much, they also have the that fits most 47-80-inch televisions for $19 ($51 savings) on Black Friday.
It is also a good brand.
Night Owl HD Security Camera $194 (Save $85)
The Night Owl security camera is good for both inside and outdoors. It comes with four HD 720p cameras featuring a 70 wide-viewing angle. This and can be expanded. The Black Friday price is competitive for a quality security camera system.
Xbox One
The  Xbox One S White 500GB Battlefield Bundle for $249 is a decent price and will beat out most other retailers by around $40 on Black Friday. Best Buy has a Black Friday deal on the Xbox One S 1TB Battlefield 1 Special Edition Bundle that includes the Xbox Wireless Controller for $299.99. The wireless controller is now selling for $46.64 on Amazon.
Stocking Stuffers
If you are looking for inexpensive stuff under $10, Walmart has a bunch of merchandise in this price range.
Of course, they leave most Black Friday ad space for higher-ticket merchandise, but here are few items that we found.
iFrogz Plugz earbuds, on sale for $5 a pair.
GE six foot HDMI 4K compatible cable will be priced at $6.50.
Blu-Ray movies for all ages priced at $5.96
Logitech M325 Wireless Mouse will be $8.88, a savings of $9.
There will be the usual plethora of bargains on sleepwear for every age group, $3 slippers for kids, basic apparel for under $10, and cheap flannel shirts for the entire family. Most of the apparel looks much the same as in past years, but what would the holidays be like without cheap fuzzy socks and blended-wool caps from Walmart?