How to Obtain a Contractor's License in California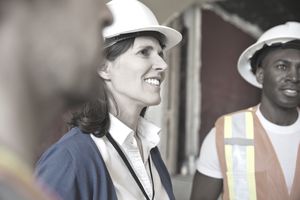 In California and just like any other state a licensed contractor is needed to perform work, and that company must be listed a registered contractor. In California, the is regulated by (CLSB), the entity that protects consumers and regulates the contractor's activity. Only in California, there are more than 300,000 licensed contractors doing business in more than 40 licensing classifications.
The California Boards also administers exams to test future licensed contractors, investigate complaints, and provide a full administrative service to contractors and their customers. The Board also is responsible for seeking criminal and civil actions against unlicensed contractors. Any license could be revoked or suspended if deemed necessary by the Board, and any unlicensed activity should be reported.
California Contractor License Basics
Any contractor engaged in construction activity that sums $500 or more, , must be licensed by the Contractors State License Board.  A contractor must submit evidence of the preparation, at least four years of experience or education, to apply for a license. Also, every contractor must be fingerprinted, bonded and the State Board will run FBI background checks. Contractors must be able to follow up all ​licensing requirements including advertising regulation.
Contractors are encouraged not to offer illegal services and to obey their respective code of ethics, to avoid being fined or processed by the state law. Contractors can face jail sentences if illegal acts are detected and additional restriction might be imposed by the State.​​​​
California Contractor License: Original License
To be registered as an actively licensed contractor in California, the board will ask for the following:
Take and pass the examination for licensure. This exam is required when contractors have not served for the same qualification they are applying, or if the contractor has failed to pass the test within the past five years.
If you have been serving as a licensed contractor, and in good standing, within the past five years for the same qualification being applied, or if the contractor has passed the test within the past five years, then no examination is required.
Waiver provisions for the examination are outlined in Business and Professions Code section 7065.1 and 7065.2. You must meet all of the conditions of the appropriate section for the to apply. In some cases, only the trade exam may be waived.
Waiver provisions defined in B&P Code section 7065.1 may be granted under subsections 7065.1(b) and 7065.1(c). While 7065.1(a) also provides for waiver of the exam, the Registrar exercised his authority to suspend waivers under this section.
California Contractor License: Reciprocity
The California Contractors State License Board offers reciprocity on a limited basis. The State only offers reciprocity agreements with Arizona, Nevada, and Utah contractors. However, contractors must meet qualification as set forth under the Contractor State License Board and only in specified classifications.
The Contractor board only offers limited reciprocity in areas where the scope and trade do not vary or where out-of-state requirements are identical.
California Contractor License Classifications
The California board groups contractors in the following categories. A Class A Contractor is one whose principal line of business requires specialized and technical engineering knowledge. The Class B or General Building Contractor relates to any structure being modified or built and on which at least two different trades are engaged. It is important to note that framing can be performed without any restriction.Class C contractors are referred as specialty contractors following the California Contractors State Board. There are 44 different specialties, trades or crafts, and sometimes when a supplier is engaged as part of the construction activities offering their services, they should be licensed as well.
There are other 30 subspecialties under the C type of contractor.