Are Publishers Clearing House Sweepstakes Scams?
Can You Trust PCH's Famous Sweepstakes?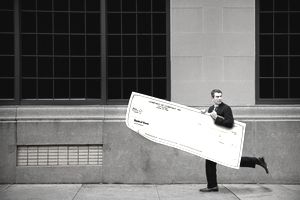 Are PCH Sweepstakes Legit or Scams?
Everyone's heard of those million-dollar sweepstakes SuperPrizes from PCH, but can you trust them? And are they worth the effort of entering them? As it turns out, those are two separate questions.
Some people worry that because they don't know anyone who's ever won, the prizes are never awarded and that PCH sweepstakes are frauds. Others can't imagine how a company could legitimately give away such big prizes on a regular basis and still stay in business.
But neither of those questions indicate that PCH is a scam.
People Really Do Win Prizes From PCH Sweepstakes
The good news is that Publishers Clearing House's sweepstakes really are legitimate. The bad news is that it is extremely hard to win their mega prizes. Really, exceptionally hard.
Publishers Clearing House runs a variety of big creative presentation sweepstakes which give away millions of dollars every year. Those prizes are fairly awarded as advertised.
But the PCH giveaways are so famous and so many people enter them that the odds of winning are infinitesimal.
For example, their $10 Million Giveaway Number 1170, which ended in 2008, offered odds of 1 in 2.4 billion. That's about 10 times worse than the odds of hitting a Powerball jackpot.
So is it surprising that you don't know a PCH SuperPrize winner? Chances are that you don't know many lottery jackpot winners, either. You are also significantly more likely to die in an asteroid strike, becoming a movie star, or being drafted by the NBA.
Most of us don't personally know any NBA draftees or asteroid victims, either.
Is It Worth Your Time to Enter PCH Sweepstakes?
There are some good reasons to add PCH's giveaways to your daily sweepstakes routine. PCH offers truly life-changing prizes that are fun to dream about winning. And while the odds are extremely long, at least you don't have to pay to enter, as you do with lotteries.
Furthermore, remember that you don't have to win a SuperPrize to benefit from PCH giveaways. Aside from their multi-million-dollar giveaways, Publishers Clearing House also offers many other drawings, and many of them have better odds. For example, PCH Search and Win gives away prizes every few minutes, and PCH Games lets you win prizes and tokens just for playing online games. For more information, see Top Ways to Win with PCH.
On the downside, PCH sweepstakes take quite some time to enter, and you might receive unwanted mail that you'll need to unsubscribe from. So you'll need to weigh whether a slim chance of winning an enormous prize is the trouble of entering and managing unwanted marketing contact.
Why Haven't You Heard of Any Publishers Clearing House Winners?
PCH's SuperPrize giveaways are among the most well-known sweepstakes in America, which means that they receive millions upon millions of entries. (Remember that the best sweepstakes to enter are usually ones with little advertising).
With the sheer number of people hoping to win, it's not surprising if you haven't met any that have been successful. But that doesn't mean that there aren't any winners.
The lists recent winners, and you can watch on YouTube.
I've also interviewed PCH winner Natalie Bostelmann, who took home a million-dollar prize for doing an online search. Check out the interview to read a real winner describe receiving such a huge prize in her own words.
Beware of Sweepstakes Scams Pretending to Be From PCH
Although PCH's sweepstakes are legitimate, you still need to be very cautious if you receive a prize notification from PCH.
Like other big companies (including Reader's Digest, Heineken, and more), scammers try to seem more legitimate by sending letters or emails that claim to come from Publishers Clearing House. These scams can look official, but they are not backed by PCH.
If you receive a win from Publishers Clearing House, follow my tips for identifying the Warning Signs of Sweepstakes Scams before responding. Some important questions to ask yourself include:
Do I remember entering this sweepstake?
Is the sender really from Publishers Clearing House? Check the email address, telephone numbers, and names to see if they look legitimate.
Is the sender asking for money, a credit card number, or a bank account number? (See the Things that Aren't Signs of Sweepstakes Scams to see what's normal when you win sweepstakes).
Check out these additional tips on how to tell if you've really won from Publishers Clearing House before responding to any win notice.
If you're still unsure, Publishers Clearing House has a toll-free number that you can call to verify any win that you receive from them. Call 1-877-3SWEEPS (1-877-379-3377) Monday through Friday, 8:30 a.m. to 5:30 p.m. to check if you've really won.
If that number doesn't work, check the website for current information.
If you'd like more information about how to get in touch with PCH, how to unsubscribe from unwanted emails, and how to get more answers to your questions, check out these Publishers Clearing House Contact Numbers.
If you have received a sweepstakes spam phone call claiming from Publishers Clearing House (or any other source), the FTC advises that you hang up immediately and to them.