Advice for the Stay at Home Dad
When Fathers Take Time Off From Work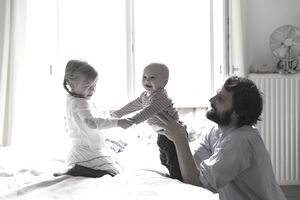 When some couples start families, they decide that one of them will stay home with the kids, at least for a few years. The next big decision the new parents must make is which one of them will take on the role of stay at home dad or mom. Traditionally the mother has been the one to become a stay at home parent. While it is not as common to see a father on the playground with his kids as it is to see a mom, this choice makes sense for many families.
Who Gets to Stay Home, Mom or Dad?
A generation or two ago, it was almost unheard of for a man to take a hiatus from his career to raise a family. Few women continued working after they had children. As a matter of fact, many left work as soon as they got married. Now with both partners having invested a great deal in their careers, it is not a given that the mom will be the one to stay home. It often doesn't even make financial sense for her to do that since she sometimes makes at least as much money as her partner.
While some people still feel that a woman can better take care of a child, there are real life examples that blow this theory right out of the water. Fathers can certainly be as nurturing as mothers. When you can put away your beliefs about the traditional roles of women as caregivers and men as breadwinners, you can apply logic to the decision about who will be a stay at home parent.
 Here are some questions you and your partner need to consider:
Which parent earns more money?
Who has the better health insurance coverage with the lowest contribution toward the premium?
Who stands to lose more by taking time off from his or her career?
Can either parent switch to a part-time or more flexible schedule?
Can either parent work from home?
After answering these questions and any others that may be pertinent to your particular situation, you can make an educated decision. The one you make may surprise you. You may in fact decide that it makes more sense for the father to be the one to put his career on hold. 
How to Avoid Loneliness As a Stay-at-Home Dad
The saying "the more things change, they more they stay the same" can indeed be applied to the enormous disparity between the number of stay at home dads versus moms. Although many women have careers and the number of women who have graduated from college has tripled over the last five decades, mothers who leave the workforce to be home with their children greatly outnumber dads who do the same. The U.S. Census Bureau reported that, in 2015, there were 5,210,000 stay at home moms and only 199,000 stay at home dads (Families and Living Arrangements, TableSHP-1). 
Because there are so few of them, fathers who stay at home with their children may have trouble meeting contemporaries. To avoid feeling isolated you must make an effort to network. Wayne Parker shows you how to start a playgroup for children and their fathers. You should also keep your professional network alive.
Find time to connect with your pre-child contacts in person.
Remain Employable
Stay at home dads who put their careers on hold to raise a family should use their time at home wisely. You should make sure your skills are up-to-date so you remain employable should you need to return to work suddenly. Keep up with what is going on in your field. Stay on top of current news by regularly visiting professional websites and reading journals, and attending professional meetings when possible.
If you decide, during your career hiatus, that you want to make a career change in the future, take this time to begin figuring out what to do when you eventually return to work. If you need to further your education, try to take some evening classes. It will stimulate you intellectually after a long day at home with the kids.
If your children are school age, get involved with the parent-teacher association at their school. Take an active role by joining committees and running for office. The skills you use can become part of your resume when you decide to return to work. You can also try volunteer work or a part-time job in your field.