A Post-Nuptial Financial To Do List Guide for Newlyweds
Here Are 7 Things Every Newlywed Couple Should Do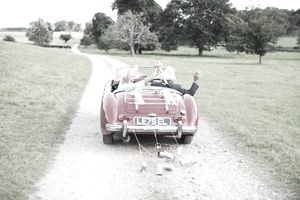 Today, as the median age for first marriage is steadily increasing, many newlyweds are combining already established households and personal finances, which can take some extra special consideration. But whether you're 19 or 90, there are a number of financial items that should be on every newlywed's "To Do" list after the excitement of the wedding dies down.
1. Change Your Beneficiaries
After legally tying the knot, be sure to through all of your investment accounts, savings accounts, 401(k) plans, IRAs, insurance policies (life, health, auto, homeowners) and other accounts and review your beneficiary designations if you want your new spouse to own these assets should something happen to you.
Though you can also designate those assets in a will, keeping the beneficiary information up to date is the easiest way to ensure that those assets transition smoothly to your spouse when you pass.
2. Make a Will or Update Your Existing Will
Along the same lines of ensuring that your beneficiaries on all of your accounts are up to date, make sure that you also have a will. Though most people do not anticipate an early death, it is always best to be prepared. If wills are an unfamiliar subject for you, you can refer to the article,  Why You Need a Will. It will provide you with some basic information on wills and how to get started, but the primary lesson you'll learn is that yes, you need a will.
3. Review your Insurance Coverage
While you have those insurance policies out, go ahead and review them for under-coverage, duplicate coverage, or lapses in coverage. This could include anything from homeowner's or renter's insurance to life insurance to health insurance.
You might also save on auto insurance premiums if you combine policies. If you've combined households, you'll likely be dropping one homeowner's or renter's insurance policy, but make sure that the remaining policy has enough coverage to protect your combined household goods, especially items that are typically limited, such as jewelry, computer equipment, collectibles, etc.
If both of you have health insurance coverage, review the plans closely to see if it makes more sense financially or from a benefits standpoint to cancel one of the plans or keep both. You typically have 30 days after your marriage to add your spouse as a dependent without providing evidence of insurability.
4. Calculate Your Joint Net Worth
It's important to know where you stand financially as a couple and to know and understand each other's personal financial situation. The exercise of calculating your net worth will do just that. Use bank statements, investment statements, credit card statements and other documents to list your combined assets and your combined debts to obtain a "snapshot" of your financial situation, which will put you in position to accomplish "To Do" number five. If you haven't already done it, now is also the time to obtain copies of your personal credit reports and study them together. Contact Experian at (888) 397-3742, Equifax at (800) 685-1111, and TransUnion at (800) 888-4213.
5. Review Your Financial Goals
This is perhaps one of the most important financial "To Do's" for a newly married couple and too few couple have these conversations. In a perfect world, you and your new spouse should have had this conversation before tying the knot.
You would have divulged your assets (and liabilities) and discussed your philosophies on saving, credit cards, your financial goals for the future, and other things that will impact your financial life together like whether or not you plan to have children. If you did not have these conversations before saying "I do," no time is better than now to start. Take this opportunity to set new short-term and long-term goals as a couple be they about reducing debt, buying a home, or retirement planning.
Of the most commonly cited reasons for divorce is "too much arguing." And what is one of the biggest sources of argument? You guessed it, money. Which brings us to our next "To Do."
6. Develop a Joint Budget
Not sure where to start? Here's a budget worksheet and guide.You'll want to calculate your combined income and subtract your combined monthly expenses and debt repayments.
 Hopefully, you'll have something left over to build an emergency fund, add to your savings, or invest. Just be sure to discuss and be on the same page as to where any surplus will go.
7. Decide on the Mechanics for Managing Your Financial Affairs
Now that you have a complete picture of your joint finances, an understanding and agreement on your financial goals, and you've built a joint budget to keep, it's time to decide upon the mechanics of managing your finances together. Get on the same page in terms of how you will handle joint and separate finances moving forward. Will you open a joint account from which to pay joint bills? Will you still maintain separate bank accounts? How much will you both save? Decide which one of you will be responsible for paying the bills and taking care of other financial tasks. The best way to do this is by identifying each person's strengths and assigning tasks accordingly.
Best wishes. Here's hoping that money never comes between you!