The Control of Land Use with Zoning Codes and Permits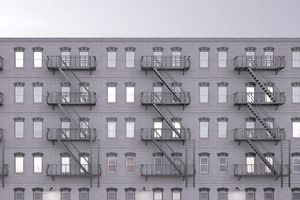 There are three basic elements in the discussion of the control of land use. For details on each, take the links:
• Land Use - The Plan: Municipalities develop master plans for the use of their land, traffic, commercial and residential areas, as well as community schools and parks.
• Zoning Codes: Zoning codes, laws or ordinances are developed to specify what land uses and building types that will be allowed in certain areas.

• Zoning Permits: Zoning permits are a tool to enforce zoning ordinances. Permits must be granted for all uses and structures.
Houston, The City Without the "Z" Word
I wanted to talk about this, partly because Houston, TX is the only major city in the United States without zoning ordinances.  The other reason is that I was born there and lived there until after high school.  It's an OK city as cities go, but I left to travel and still do not like the flat, hot and humid aspects of living there.  However, back to the topic at hand.
Houston has never had zoning ordinances.  One could assume that you'd find a pretty horrible situation there, like:
a high rise in a small neighborhood of single family homes, towering over them and blotting out the sun.
an indoor shooting range nestled between a nursing home and a day care center.
a Super Walmart right in the middle of downtown.
There are other horror stories I'm sure you can bring to mind.
 The interesting this is that none of them will be found in Houston.  Even though the city has never had zoning laws, driving through it you would think it pretty much looks like most other cities you've seen.
It's not that there is zero control of development, only that it isn't accomplished in Houston in the same geographical zoning ways.
 Deed restrictions are used as one control method.  Also that restrict how close certain structure uses can be to residential areas has helped to keep some commercial uses out of residential areas.
It's hard to argue that no zoning is harmful to development, as Houston tends to prove just the opposite.  Developers have much more latitude in the Houston situation, though they aren't given free reign by any means.  With deed restrictions, building codes and use restrictions related to surrounding properties, Houston has a little of the best of both worlds.  Developers can build new or convert existing structures or facilities often with only minor code variances.
An example might be converting a closed down strip shopping center into a Seniors' activity center, or the other way around.  Zoning could make this impossible, while Houston will simply want the new use to comply with safety and use ordinances.
The question comes up as to why Houston stands alone among major cities in not having zoning.  It seems that the city charter required and instituting zoning required putting it to a popular vote, not just a city council decision.  Proponents did manage to get zoning to a vote in 1948, but it failed.
 Twice more, in 1962 and 1993, it failed again.  The people simply didn't want it or think that it was necessary, as Houston was rocking right along without major problems.
That's not to say that there have never been problems.  Now and then commercial and highrise developers got a bit to dense in their structure placement.  Buildings later were too close together to widen roads or deal with utility requirements.
In response, instead of zoning, setback restrictions, parking space and buffers around large buildings were enacted.  The difference is that unlike zoning, they are not related to geography.  They are related to the buildings' proximity to each other and their uses.  Houston certainly hasn't suffered from the different approach, as development has always been robust.  The city maintains a manageable, yet aggressive, growth rate.
 It isn't always a problem to be different.