Free Summer Movies at Bow Tie Cinemas
Take the Kids to a Free Movie This Summer at Bow Tie Cinemas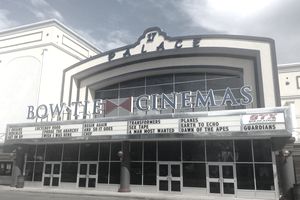 Check back in May for details on the free summer movies at Bow Tie Cinemas for 2018.
Bow Tie Cinemas (formerly Clearview Cinemas before an acquisition in 2013) is showing a ton of free summer movies for kids! If you're in New York, New Jersey, Maryland, Connecticut, or Virginia, you won't want to miss out on sending your kids to the movies for free this summer.
Summer of 2017's Bow Tie Cinemas free summer movie program is called Summer Kids Series 2017.
Keep reading for a list of the free movies they're showing this year plus a complete list of the theaters that are participating.
Are you looking for more free summer movies? See my complete list of .
When You Can See Free Summer Movies at Bow Tie Cinemas
You can start seeing the free summer movies at Bow Tie Cinemas on June 20, and they'll wrap up on August 16.
The free summer movies at Bow Tie Cinemas are shown each week during that time frame, on Tuesday and Wednesday morning at 10:00 AM.
A List of the Free Summer Movies Playing at Bow Tie Cinemas
You can find the full schedule for these free summer movies on the website. Also on that page is a list of theater locations with links to their addresses and phone numbers.
Here's a list of the free summer movies playing at Clearview Cinemas this summer:
Hotel Transylvania
The Angry Birds Movie
The Peanuts Movie
Storks
Ice Age: Collision Course
Trolls
Kung Fu Panda 3
Hotel Transylvania 2
Cloudy with a Chance of Meatballs 2
A List of Participating Bow Tie Cinemas Theaters
The movies listed above are shown at 18 different Bow Tie Cinemas theaters this summer. Although Bow Tie Cinemas has theaters in six states, they're only offering this free summer movie deal in five locations, excluding Colorado but including New York, New Jersey, Maryland, Virginia, and Connecticut.
Here are the specific locations within those states that are participating in Summer Kids Series 2017:
New York:
Wilton Mall Cinemas & BTX – Wilton, NY
Movieland 6 – Schenectady, NY
Herricks Cinemas – New Hyde Park, NY
Squire Cinemas – Great Neck, NY
New Jersey:
Bellevue Cinema 4 – Montclair, NJ
Hoboken Cinema – Hoboken, NJ
Kinnelon 8 – Kinnelon, NJ
Parsippany Cinema 12 – Parsippany, NJ
Succasunna Cinema 10 – Roxbury Township, NJ
Mansfield Cinema 14 – Hackettstown, NJ
South Orange 5 – South Orange, NJ
Washington Township Cinema 3 – Washington Township, NJ
Maryland:
Harbour 9 – Annapolis, MD
Virginia:
Reston Town Center 11 – Reston, VA
Movieland at Boulevard Square – Richmond, VA
Connecticut:
Marquis 16 – Trumbull, CT
Landmark 9 – Stamford, CT
Palace 17 – Hartford, CT
Remember that these theaters are reserving their schedules between June 20 and August 16 in order to show the movies listed above, but they do still have regular scheduling for the other days in those months.
Tip: If you need directions to these theaters, a list of features offered by the theaters (like if they support assisted listening devices), or the phone numbers to contact them, be sure to click through the appropriate links on the Bow Tie Cinemas website.
Limits to Be Aware Of
Seating is first-come, first serve so arrive early to secure your seat. Seating starts an hour before the film starts, at 9:00 AM.